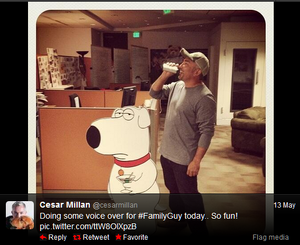 Although Brian has previously bitten Peter on multiple occasions such as in "Play It Again, Brian", Peter's fear closely follows a similar reaction after a fight in "Brian Sings and Swings".
Cesar Millan recorded for a voice performance for this episode, but the part was cut according to the DVD commentary.
The image of Sean Penn in the "Jewfro" is from the film Carlito's Way.
Stewie says "hwhip" again, but this time Brian accepts that pronunciation.
Meg defends her lunch by stomping a pigeon. She also demonstrates other behaviors such as licking the bowls in class after the home economics students leave and has the nickname "gutter ball."
When Neil Goldman sits down to lunch with Chris Griffin he compares himself and Chris to Daenerys Targaryen and Jorah Mormont from Game of Thrones.