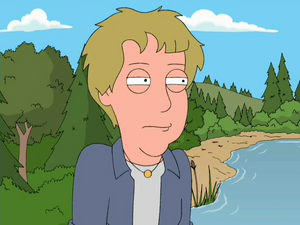 One Tree Hill is an American teen, young adult television drama created by Mark Schwahn, which premiered on September 23, 2003 on The WB Television Network. After its third season, it moved to The CW Television Network, which was born from the WB's merger and since September 27, 2006 the network is the official broadcaster for the show in the USA. The show is set in fictional Tree Hill in North Carolina and originally follows the lives of two half-brothers, Lucas Scott (Chad Michael Murray) and Nathan Scott (James Lafferty). Their relationship evolves from heartless enemies to caring brothers, and the basketball drama, as well as the brothers' on-again/off-again romances with female characters, are significant elements within the series.
In "McStroke", Brian and Stewie Griffin watched an episode of the show. Believing he could be more popular than the characters on the show, he creates an alter ego named Zack Sawyer and enrolls in James Woods Regional High School.
Mayor Adam West destroys Peter's collection of stolen Nielsen boxes for adding a second tree to One Tree Hill in "Ratings Guy".