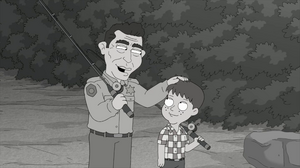 Opie Taylor is a fictional character in the American television program, The Andy Griffith Show which was televised on CBS from October 3, 1960 to April 1, 1968. The character was portrayed by Ron Howard.
In "Farmer Guy", after Brian points out that things are not as innocent as they seem, a cutaway features the opening of The Andy Griffith Show. When Opie pitches a rock into the woods, he strikes a black father in the head, receiving an "attaboy Op" from Andy.
Don Knotts claims in ""Family Guy" Through the Years" that Andy Griffith used to beat him up due to drinking, and says that Ron Howard can confirm it.