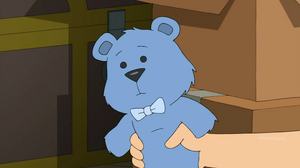 Oscar is Stewie's first teddy bear, given to him by his grandparents Carter and Barbara Pewterschmidt on his birth. Lois finds Oscar in the attic while preparing for Halloween in "Quagmire's Quagmire" and offers him to Stewie. Although reluctant to accept Oscar, Stewie soon finds himself drawn to him and eventually rejects Rupert until he finds Brian humping him after they get into a "fight" over Stewie's new relationship. Not wanting to give Rupert up, he forces Rupert to choose between him and Brian. When Rupert falls over towards Stewie, he takes as a sign of choice. As he rejoices with Rupert, he worries about how Oscar will take the news. Oscar is seen having apparently hanged himself in front of a painting of Stewie.
Ad blocker interference detected!
Wikia is a free-to-use site that makes money from advertising. We have a modified experience for viewers using ad blockers

Wikia is not accessible if you've made further modifications. Remove the custom ad blocker rule(s) and the page will load as expected.