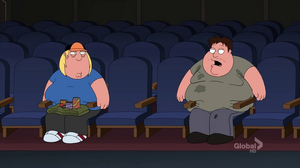 Other brother is the subject of a cutaway gag When Chris worries about the seats at the Quahog Playhouse being large enough for him in "Brian's Play". In a flashback, Chris is show stuck in a theater seat while Lois bring him food and blankets. A similarly stuck seatmate notes that she won't be coming back. When Chris inquires why, his seatmate notes that Lois is also his mom.
Ad blocker interference detected!
Wikia is a free-to-use site that makes money from advertising. We have a modified experience for viewers using ad blockers

Wikia is not accessible if you've made further modifications. Remove the custom ad blocker rule(s) and the page will load as expected.