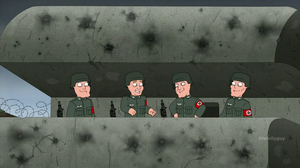 Otto is a German soldier at Normandy Beach in "Stewie, Chris & Brian's Excellent Adventure".
During the D-Day invasion, a "Double D-Day" invasion involving busty girls is also going on. When one of the soldiers shoots at them, he is stopped by the others, who would like to observe the goings-on. Otto playfully warns them to be alert for "booby-traps" and is teased for his pun.
Ad blocker interference detected!
Wikia is a free-to-use site that makes money from advertising. We have a modified experience for viewers using ad blockers

Wikia is not accessible if you've made further modifications. Remove the custom ad blocker rule(s) and the page will load as expected.