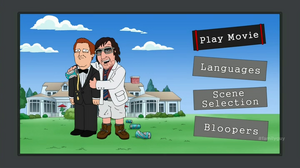 Ruth refers to Lois as Meg's "hot mom."
People who bought Brian's book, Faster Than the Speed of Love on Amazon also bought car batteries, a potato and a toilet.
The Adam Sandler DVD menu title that Brian and Peter watch is from That's My Boy.
The episode makes a meta-joke about star Mila Kunis' involvement in Black Swan.
"Cotton-Eye Joe" by Rednex plays during the dumb stunts montage.
The opera that Stewie takes Brian to is Carmen by Georges Bizet. It was used previously in "Brian Wallows and Peter's Swallows" when sung by Pearl Burton.
Brian says Sheldon Cooper's catchphrase "bazinga" from The Big Bang Theory. Peter calls Sheldon "the gay scientist". Sheldon's actor, Jim Parsons is gay.[1]
The former Soviet Union used many dogs in its space program. The one closest to the 1958 date given in the cutaway is Laika, who became the first living Earth-born creature in orbit, aboard Sputnik 2 on 3 November 1957.
On the Amazon.com page for Faster Than the Speed of Love, the description reads: "This book is priced to sell at a very low price. There is no other book like it in the world. Please buy it. We don't know what else we are going to do with so many copies of this book that absolutely no one wants to buy or read. In fact, we can't even give it away. It's so bad. you will want to gouge your eyes out after having only read the first sentence. No really, it's just that bad. In fact, if you've taken the time to read this paragraph, we should pay you".
Although the uncensored version pans out so that Peter's double digits are visible in the final scene, they are still digitally obscured in all media.