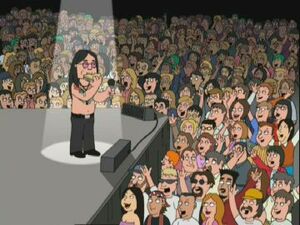 Ozzy Osbourne (born John Michael Osbourne; December 3, 1948) is an English singer-songwriter, whose career has now spanned five decades. Osbourne rose to prominence as lead vocalist of pioneering British heavy metal band Black Sabbath, and eventually achieved a multi-platinum solo career.
He gained notoriety on 20 January 1982, when he bit the head off a bat he thought was rubber while performing at the Veterans Memorial Auditorium in Des Moines, Iowa.
In "PTV", The FCC says Ozzy cleaned up his act and stopped biting the heads off bats. The scene cuts to Ozzy on stage at a concert eating a sandwich instead of a bat.