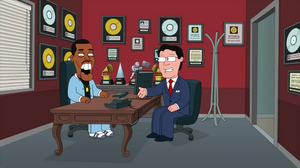 Sean John Combs (born November 4, 1969), also known by his stage names Puff Daddy, Diddy, and P. Diddy, is an American rapper, record producer, actor, and entrepreneur.
In "Total Recall", Stewie complains that the stuffed giraffe's mouth hangs open like P. Diddy's. Brian points out that P. Diddy hired a guy to close his mouth for him. A cutaway gag shows the helper arriving late after getting caught in traffic.
Ad blocker interference detected!
Wikia is a free-to-use site that makes money from advertising. We have a modified experience for viewers using ad blockers

Wikia is not accessible if you've made further modifications. Remove the custom ad blocker rule(s) and the page will load as expected.