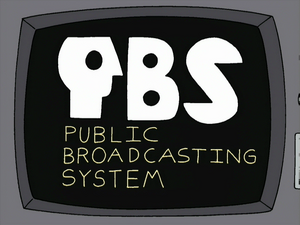 The Public Broadcasting Service (PBS) is an American non-profit public broadcasting television service with 354 member TV stations in the United States. It is owned collectively by its member stations. However, its operations are largely funded by the Corporation for Public Broadcasting. Its east coast headquarters are in Arlington, Virginia, with west coast operations in Burbank, California, located adjacent to the headquarters of Disney and Warner Bros.
PBS is the most prominent provider of programming to U.S. public television stations, distributing acclaimed series such as The NewsHour with Jim Lehrer, Masterpiece, and Frontline.
Peter Griffin is instructed by Bob Ross on The Joy of Painting in "Fifteen Minutes of Shame".
Brian is watching Nova on PBS when they suddenly switch to a marathon of One Day at a Time in "The Son Also Draws".
The program Old Ships is shown in the Pewterschmidt living room, and was confused to be a painting. The mass quantity of sponsors for its programs were also parodied in "Welcome Back, Carter".
Lois makes the family watch a documentary called Food Kills that she got with a pledge to PBS in "Saturated Fat Guy". The video has a plug for more information at a badly registered PBS web site.