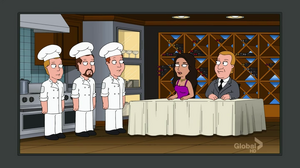 Padma Parvati Lakshmi (born September 1, 1970) is an Indian American cookbook author, actress, model and television host. Her debut cookbook Easy Exotic won her the "Best First Book" award at the 1999 Gourmand World Cookbook Awards. She has been the host of the US reality television program Top Chef since season two in 2006, for which she received a nomination for the Primetime Emmy Award for Outstanding Host for a Reality or Reality-Competition Program.
Padma appears as herself in "12 and a Half Angry Men" when the Griffins watch Bottom Chef as she tells contestant chef Daniel L. to pack up his fudge and go.
Ad blocker interference detected!
Wikia is a free-to-use site that makes money from advertising. We have a modified experience for viewers using ad blockers

Wikia is not accessible if you've made further modifications. Remove the custom ad blocker rule(s) and the page will load as expected.