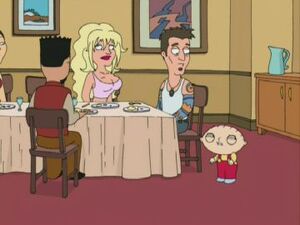 Pamela Denise Anderson (born July 1, 1967) is a Canadian American actress, model, producer, author, activist, and former showgirl, known for her roles on the television series Home Improvement, Baywatch, and V.I.P. For a time, she was known as Pamela Anderson Lee (or Pamela Lee) after marrying Mötley Crüe drummer Tommy Lee. She holds both United States and Canadian citizenship. She was chosen as a Playmate of the Month for Playboy magazine in February 1990.
She was seen in "8 Simple Rules for Buying My Teenage Daughter" with then-husband Lee when Stewie Griffin tries to make a hepatitis joke at a restaurant.
Ad blocker interference detected!
Wikia is a free-to-use site that makes money from advertising. We have a modified experience for viewers using ad blockers

Wikia is not accessible if you've made further modifications. Remove the custom ad blocker rule(s) and the page will load as expected.