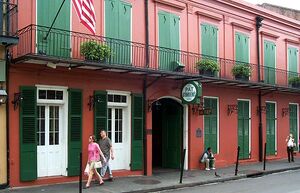 Pat O'Brien's Bar is a bar located in New Orleans, Louisiana that began operation as a legal liquor establishment on December 3, 1933, at the intersection of Royal and St. Peter streets in the French Quarter. In 1942 it moved to its present location at 718 St. Peter, into a historic building dating from 1791.
Pat O'Brien's Bar appears as a recreation of the "Lost City of New Orleans" is inside a tank at the Quahog Marine Center when the Griffins go to the center for a weekend out in "Bill and Peter's Bogus Journey".
Ad blocker interference detected!
Wikia is a free-to-use site that makes money from advertising. We have a modified experience for viewers using ad blockers

Wikia is not accessible if you've made further modifications. Remove the custom ad blocker rule(s) and the page will load as expected.