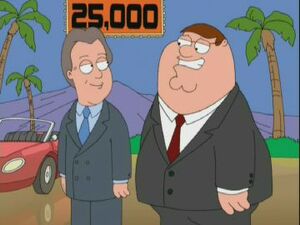 Pat Sajak (born Patrick Leonard Sajdak on October 26, 1946) is a television personality, former weatherman, actor and talk show host, best known as the host of the American television game show Wheel of Fortune, replacing Chuck Woolery.
Peter and Brian watch an episode of Wheel of Fortune in "A Hero Sits Next Door" when the answer was GO TUCK YOURSELF IN.
Peter won as a contestant on Wheel in "I Take Thee Quagmire", where the answer to the puzzle was "ALEX KARRAS IN WEBSTER"; he used no help letters on his Bonus Round puzzle, instead using Z, the number 4, three Qs and the Batman symbol and presumably managing to count the blank spaces in the puzzle to solve it. He calls Sajak "Regis", which Pat doesn't seem to mind. Pat is voiced by Stephan Cox in this appearance.
Principal Shepherd reveals that his wife Fiona is having an affair with Pat's accountant in "Crimes and Meg's Demeanor".