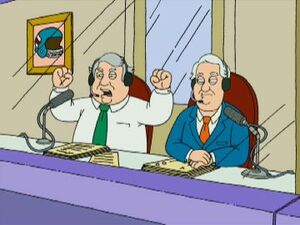 George Allen "Pat" Summerall (May 10, 1930 - April 16, 2013) was a former American football player and television sportscaster, having worked at CBS, FOX, and ESPN. Summerall is best known for his work with John Madden on NFL telecasts for CBS and FOX.
He appeared in "Death Has a Shadow," when Peter Griffin goes to the Super Bowl to return his extra money he received from welfare. Pat was doing his play-by-play duties for FOX with John Madden when he noticed the money falling to the field, bringing greed-induced chaos to the field. He quickly runs down to the field to retrieve some of the money.
Pat is voiced by Wally Wingert.