Ad blocker interference detected!
Wikia is a free-to-use site that makes money from advertising. We have a modified experience for viewers using ad blockers

Wikia is not accessible if you've made further modifications. Remove the custom ad blocker rule(s) and the page will load as expected.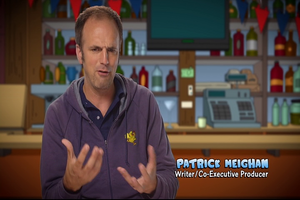 Patrick Meighan is an American animation writer. Meighan is most notably known for writing several episodes of the animated series Family Guy and Titus.
He also provided the voice for Jeremy Miller in Not All Dogs Go To Heaven.
Episodes Written
Season 4:
Season 5:
Season 7:
Season 8:
Season 9:
Season 10:
Season 11:
Season 12:
Season 13:
Season 14
External links