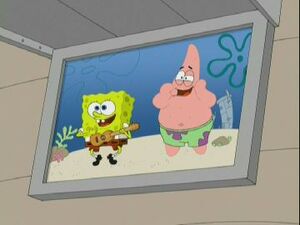 Patrick Star is a character from the popular cartoon SpongeBob SquarePants. Patrick is the somewhat dimwitted friend of the eponymous sponge.
In "Road to Rupert", after Peter Griffin has lost his driver's license, his daughter Meg has to drive him around. During one of the drives she becomes annoyed by Peter's childish behavior. To distract him she puts in a SpongeBob SquarePants DVD, which includes "The Camping Episode" in which SpongeBob and Patrick sing the "Campfire Song Song". Peter reacts by saying "he hehe he Spongebob he he" as he watches SpongeBob and Patrick dance around.
Just as in the series, whose actual audio from "The Camping Episode" was used on Family Guy, Patrick is voiced by Bill Fagerbakke.