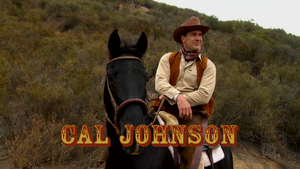 Patrick John Warburton (born November 14, 1964) is an American actor of television, film and voice acting. He is best known for the TV roles, including the title role of The Tick, Seinfeld, NewsRadio, and Men in Black 2. As a voice actor, his distinctive deep voice has been lent to roles including Kronk in The Emperor's New Groove and its sequels, bodyguard Brock Samson on The Venture Bros. and Ken in Bee Movie which got him nominated for an Annie Award. He currently appears as macho married man Jeff Bingham in the CBS television program Rules of Engagement. He also had brief role in Seth MacFarlane's Ted.
Besides his role as Joe Swanson, he portrayed Cal Johnson on the fictional program of the same name. The theme song was performed in Family Guy Presents: Seth & Alex's Almost Live Comedy Show.
Ad blocker interference detected!
Wikia is a free-to-use site that makes money from advertising. We have a modified experience for viewers using ad blockers

Wikia is not accessible if you've made further modifications. Remove the custom ad blocker rule(s) and the page will load as expected.