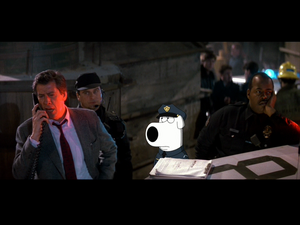 Paul Xavier Gleason (May 4, 1939 – May 27, 2006) was an American film and television actor. Gleason starred in many movies, and became well-known initially as Dr. David Thornton on All My Children, playing the role from 1976 to 1978. He is perhaps best remembered for his role as Richard Vernon, the gruff disciplinarian in the seminal 1985 movie The Breakfast Club. He reprised versions of that character several times, including in an A*Teens music video, on the television show Boy Meets World (although he was a dean on BMW) and in the films Johnny Be Good and Not Another Teen Movie.
Gleason was known to Star Wars fans for his role as Jeremitt Towani in the 1985 made-for-TV film The Battle for Endor. He played the villainous Clarence Beeks in the 1983 comedy Trading Places starring Dan Aykroyd and Eddie Murphy. He also played Deputy Police Chief Dwayne T Robinson, the blowhard police official in Die Hard.
Gleason appeared via archive footage in a live-action clip from the movie Die Hard in "Brian's Got a Brand New Bag".