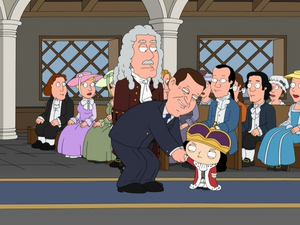 Paul Edward Lynde (13 June 1926 – 10 January 1982) was an American comedian and actor. A noted character actor, Lynde was well known for his roles as Uncle Arthur on Bewitched and Harry McAfee, the befuddled father in Bye Bye Birdie. He was also the regular "center square" guest on the classic game show, Hollywood Squares, from 1968 to 1981.
In "A.N.N.A. Rules", the finale song of Peter Griffin's The King and I, performed in "The King Is Dead", A.N.N.A. believes there's no one as tough as she is, just as surely as Lynde was gay.
Lynde appears as McAfee in "Peter's Progress", greeting King Stewart III.
Seth MacFarlane also uses Lynde's voice as the inspiration for Roger on American Dad!. Roger appeared at the end of "Meet the Quagmires", the Mos Eisley cantina in Blue Harvest, and as Tiaan Jerjerrod in It's A Trap!.
Ad blocker interference detected!
Wikia is a free-to-use site that makes money from advertising. We have a modified experience for viewers using ad blockers

Wikia is not accessible if you've made further modifications. Remove the custom ad blocker rule(s) and the page will load as expected.