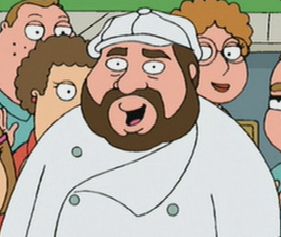 Paul Prudhomme (July 13, 1940 - October 8, 2015) was an American celebrity chef famous for his Creole cuisine. He was also the owner of one of the top restaurants in New Orleans; K-Paul's Louisiana Kitchen.
He appears in "Ready, Willing, and Disabled" as one of the people that Joe Swanson thanks while ignoring Peter Griffin, along with Peter Yarrow and Eddie Griffin.
Ad blocker interference detected!
Wikia is a free-to-use site that makes money from advertising. We have a modified experience for viewers using ad blockers

Wikia is not accessible if you've made further modifications. Remove the custom ad blocker rule(s) and the page will load as expected.