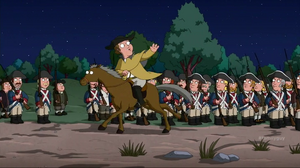 Paul Revere (December 21, 1734 – May 10, 1818) was an American silversmith, engraver, early industrialist, and a patriot in the American Revolution. He is most noable for alerting the Colonial militia to the approach of British forces before the battles of Lexington and Concord, as dramatized in Henry Wadsworth Longfellow's poem, "Paul Revere's Ride".
After Brian considers Lois a local hero for organizing a blood drive for hurricane victims in Haiti in "Baking Bad", he compares her to Paul Revere. In a cutaway gag, Paul is shown leaving other troops behind to make his ride and take the credit for himself.
Ad blocker interference detected!
Wikia is a free-to-use site that makes money from advertising. We have a modified experience for viewers using ad blockers

Wikia is not accessible if you've made further modifications. Remove the custom ad blocker rule(s) and the page will load as expected.