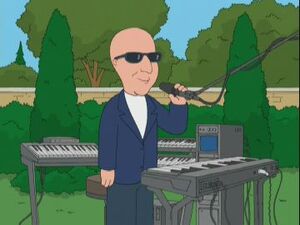 Paul Allen Wood Shaffer is a Canadian musician, actor, voice actor, author, comedian, and composer. Currently, he is the bandleader and sidekick on the Late Show with David Letterman.
When Peter Griffin reminisces about "the good old days" when Brian was his sidekick in "The Thin White Line", Peter becomes Letterman and Brian becomes Shaffer. Brian, in a parody of Shaffer's improvised songs, sings "Peter's Tie".
During the afterparty in Stewie Griffin: The Untold Story, Stewie explains about appearing on talk shows including Late Show with David Letterman after Family Guy was canceled. When he drops his jumper in front of David, Paul gets a big laugh.
Peter upsets Patrick Pewterschmidt and says he ticked him off like a Paul Shaffer fire alarm in "The Fat Guy Strangler".
In "Padre de Familia", Stewie Griffin makes a joke that gets a typical response from Schaffer.
David appears in "Ratings Guy" reading Good Night, Truck to Peter. When Paul comes on to play, Peter quickly shuts off the television noting he thinks Paul is terrible.