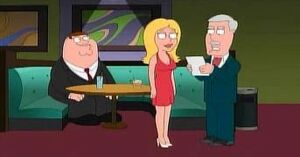 Paula is the girl Carter Pewterschmidt meets at the bar on his first day of bachelorhood in "Welcome Back, Carter". After Carter makes racist remarks in front of her two friends, she and her friends leave the table. Later, she and the friends press their faces up against one another so intensely they become one fat girl.
Ad blocker interference detected!
Wikia is a free-to-use site that makes money from advertising. We have a modified experience for viewers using ad blockers

Wikia is not accessible if you've made further modifications. Remove the custom ad blocker rule(s) and the page will load as expected.