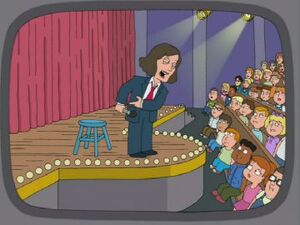 Paula Poundstone is an American stand-up comedian, well known for her quiet, self-deprecating style and her masculine dress sense.
In 2001, Poundstone was arrested on a felony warrant for three counts of committing a lewd act on an unidentified girl under the age of 14. The Los Angeles County District Attorney's Office also stated that Poundstone was charged with endangering two other unidentified girls and two boys. She was sentenced to five years probation.
In "8 Simple Rules for Buying My Teenage Daughter", she hosts Nickelodeon's Kids Choice Awards, and selects very reluctant children out of an audience to go back stage.
She was also seen on the hospital television during Bonnie Swanson's labor in "Ocean's Three and a Half".
Ad blocker interference detected!
Wikia is a free-to-use site that makes money from advertising. We have a modified experience for viewers using ad blockers

Wikia is not accessible if you've made further modifications. Remove the custom ad blocker rule(s) and the page will load as expected.