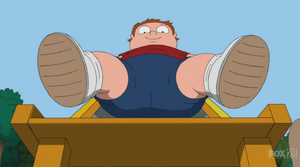 Pavel is a Polish toddler noted for bad flatulence. When Stewie lands on his back at the bottom of a slide at the playground in "Family Guy Viewer Mail No. 2", the other kids warn him that Pavel is on his way down. Stewie looks up just in time to confirm this as Pavel lands on him.
Ad blocker interference detected!
Wikia is a free-to-use site that makes money from advertising. We have a modified experience for viewers using ad blockers

Wikia is not accessible if you've made further modifications. Remove the custom ad blocker rule(s) and the page will load as expected.