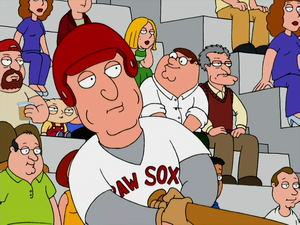 The Pawtucket Red Sox (known colloquially as the PawSox) are the minor league baseball Triple-A affiliates of the Boston Red Sox and belong to the International League. They play their home games at McCoy Stadium in Pawtucket, Rhode Island.
In "Holy Crap", Peter Griffin took his father Francis to a PawSox home game.
When Peter Griffin is lead to believe a restaurant placemat is a treasure map in "Finders Keepers", clues lead the town to the island to dig up Timmy. Inside the coffin, they discover another clue that sends most of the town to McCoy Stadium where they dig up the field searching and end up in fights with each other in their effort to find the treasure.
Ad blocker interference detected!
Wikia is a free-to-use site that makes money from advertising. We have a modified experience for viewers using ad blockers

Wikia is not accessible if you've made further modifications. Remove the custom ad blocker rule(s) and the page will load as expected.