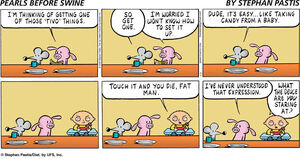 Pearls Before Swine is an American comic strip written and illustrated by Stephan Pastis, who was formerly a lawyer in San Francisco, California. It chronicles the daily lives of four anthropomorphic animals, Pig, Rat, Zebra, and Goat, as well as a number of supporting characters. Although created in 1997, it was not published until 2000, when United Feature Syndicate ran it on its website.
Stewie Griffin is seen in a strip dated April 20th, 2008[1] when Rat notes "It's as easy as taking candy from a baby" and Stewie is there to refute the claim.
Ad blocker interference detected!
Wikia is a free-to-use site that makes money from advertising. We have a modified experience for viewers using ad blockers

Wikia is not accessible if you've made further modifications. Remove the custom ad blocker rule(s) and the page will load as expected.