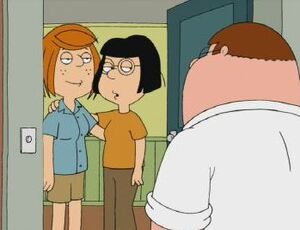 Patricia "Peppermint Patty" Reichardt is a fictional character featured in Charles M. Schulz's comic strip, Peanuts. A freckle-faced auburn/brunette, she is one of a small group in the strip who lives across town from Charlie Brown and his school friends. She has a persistent habit of profoundly misunderstanding basic concepts and ideas that most people would consider obvious, leading to ultimately embarrassing situations.
In "Stuck Together, Torn Apart", it was revealed that she and Peter Griffin once dated. When Peter tried to get back together with her while on trial separation, she is seen to have aged gracefully. She credits Marcie, who is now her lesbian domestic partner.
She seems to have not attended the Peanuts reunion seen in "Mother Tucker".