This is the second episode to not have a sequence before the opening credits, the first being "Chitty Chitty Death Bang".
This is the first episode to introduce Lois's wealthy background and introduces her parents Carter and Barbara Pewterschmidt.
The mansion staff are shown to understand Stewie.
This is the first time we hear Peter's middle name, "Löwenbräu".
Brian sings "For the Love of Money" by The O'Jays.
When Peter is coming down the stairs, the third thing he says is "Pasta Fazul", the Americanized version of the Italian dish Pasta e Fagioli.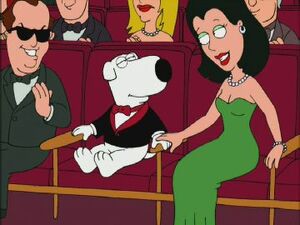 Brian is seated next to Jack Nicholson at the Academy Awards. He was also sitting next to Marisa Tomei, whom he came with.
Marisa Tomei unexpectedly won the Academy Award for Best Supporting Actress for her role in My Cousin Vinny in 1993.[1]
Using shock therapy, Brian tries to make Peter watch the acclaimed NBC sitcom Frasier instead of the inappropriate Ricki Lake. Interestingly, Family Guy happened to air at the same time as Frasier during the 1999-2000 season.
When Peter is trying to prove that millions of dollars of history happened in the mansion, he points to a large crack in the wall which he pretends is where the Stock Market crashed, a small toy train which he pretends is part of Harriet Tubman's Underground Railroad, and a note on the wall dated 51BC that states "Jesus was here". When asked how it could have happened 51 years before he was born, Peter replies, "He can do anything. He's Jesus".
Near the end of the episode, The Cosby Show is parodied during a skit in which Theo tells his dad that he got a girl pregnant.
During the musical number, "This House Is Freakin' Sweet", Stephen Hawking, a renowned physicist, is hired to help Chris with his homework. Interestingly, Hawking taps his right foot to the music despite the fact he was rendered a quadriplegic by motor neuron disease.
Marguerite Pewterschmidt's video based on Lifestyles of the Rich and Famous is narrated by Robin Leach.
Peter pronounces the name of Lois' rich friend Coco as "Caca", which is a slang term for excreta.
The way Peter asks, "Who said 'Aunt Marguerite'?" is similar to the way he asks, "Who touched the thermostat?" in "Death Has a Shadow".
Peter claims Cherrywood to be a presidential whorehouse, however, Robert E. Lee never served as President in the United States or Confederacy.
When Peter says, "If that's French for 'Star Wars Collectable Glasses', then 'sí'", he is using the Spanish word for 'yes', not French. The French word is 'oui' pronounced "we".
In the reference to the Coca-Cola commercial, Mean Joe Greene's surname is misspelled as "GREEN."
The lightsaber that Luke Skywalker holds on the glass is green, not blue, which doesn't happen until the third Star Wars film.