The title is a reference to the nursery rhyme "Peter, Peter, Pumpkin Eater."
At the reading of the will, Peter says "big money, big money, no whammies, no whammies, STOP!," a reference to the game show Press Your Luck.
"This House Is Freaking Sweet", the song sung by Peter and the Cherrywood Manor servants, parodies the song "I Think I'm Gonna Like It Here" from Annie.
The creepy twins Stewie meets are a reference to the movie version of Stephen King's "The Shining."
Lois and Peter's illicit dancing recalls a similar scene in Dirty Dancing.
The scene in which Stewie commands the butlers to fight to the death is a reference to the Star Trek original series episode "Amok Time" in which Kirk and Mr. Spock are taking part in the Kunut Kalifi, when 2 males compete for a Vulcan female mate.
Peter's appearance and behavior after Brian makes him over refers to Jackie Gleason's smarmy millionaire character, Reginald Van Gleason III.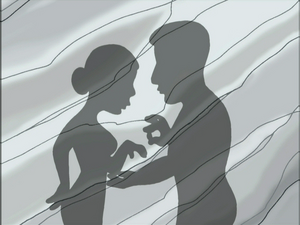 A commercial with shadows and visible jewelry is a spoof of the De Beers 'Diamonds are Forever' commercial.
When Peter says "100 million dollars" he puts his pinky finger to his mouth. The pinky and the quote are a reference to Dr. Evil in the Austin Powers series.
"That's not true! That's impossible." are the exact lines spoken by Luke Skywalker when he is confronted by Darth Vader, and Peter replicates his pose.
The 1970s Joe Greene Coca-Cola commercial is parodied when Peter regrets dropping Greene's uniform, which he would've sold for a lot of money.
Ted Turner "colorizing" the moon is a reference to Turner Entertainment's practice of colorizing old black-and-white films.