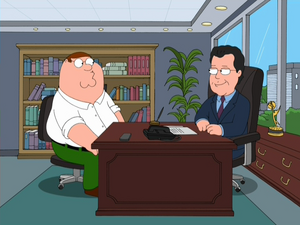 Peter Chernin (born May 29, 1951) was, until June 30, 2009 President and Chief Operating Officer of News Corporation, and Chairman and CEO of FOX Entertainment Group. After his departure from News Corporation, Chernin begun his own production company.
He appeared as himself in "FOX-y Lady", entertaining Peter Griffin's pitch for a new animated sitcom called Handi-Quacks.
Ad blocker interference detected!
Wikia is a free-to-use site that makes money from advertising. We have a modified experience for viewers using ad blockers

Wikia is not accessible if you've made further modifications. Remove the custom ad blocker rule(s) and the page will load as expected.