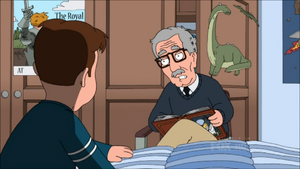 Peter Michael Falk (September 16, 1927 – June 23, 2011) was an American actor, best known for his role as Lieutenant Columbo in the television series Columbo. He appeared in numerous films such as The Princess Bride, The Great Race and Next, and television guest roles. He was nominated for an Academy Award twice for 1960's Murder, Inc. and 1961's Pocketful of Miracles, and won the Emmy Award on five occasions, four of which for Columbo and the Golden Globe award once.
Peter Falk appears in "Quagmire and Meg" as the grandfather/narrator role he played in The Princess Bride.
Falk is voiced by Seth MacFarlane.
Ad blocker interference detected!
Wikia is a free-to-use site that makes money from advertising. We have a modified experience for viewers using ad blockers

Wikia is not accessible if you've made further modifications. Remove the custom ad blocker rule(s) and the page will load as expected.