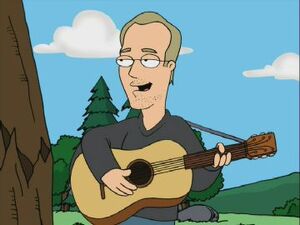 Peter Kenneth Frampton (born April 22, 1950) is an English musician, singer, producer, and multi-instrumentalist. He was previously associated with the bands Humble Pie and The Herd. Frampton's international breakthrough album was his live release, Frampton Comes Alive!.
He voiced himself in "Death Lives". Peter Griffin and Death convinced him to sing his song "Baby, I Love Your Way" to Peter's wife Lois. The song was the couple's signature song, as it played on the radio of the truck that crashed because they were lying in the middle of the road.
Ad blocker interference detected!
Wikia is a free-to-use site that makes money from advertising. We have a modified experience for viewers using ad blockers

Wikia is not accessible if you've made further modifications. Remove the custom ad blocker rule(s) and the page will load as expected.