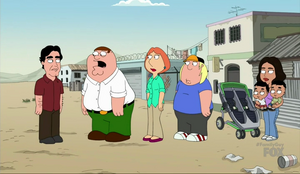 Peter Killian Gallagher (born August 19, 1955) is an American actor, musician and writer, notable for his work in The O.C., Covert Affairs and Law & Order: Special Victims Unit.
In "Lethal Weapons", he is the voice of Jared Fellows.
When Peter tries to get the family and Chris' girlfriend Isabella out of Mexico in "Dearly Deported", he tries to summon El Chapo by reciting "dyed black eyebrows." However, he gets Peter Gallagher and Mark Cuban instead.