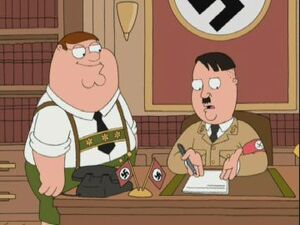 Peter Hitler was Peter Griffin's great uncle and brother of Adolf Hitler, appearing in "Untitled Griffin Family History". He was always annoying to Adolf and interrupted him during his "Nazi stuff". He helped Adolf get great feedback from a rally, but this was also to Adolf's annoyance.
On the extended DVD cut, Peter accidentally killed both Adolf and his wife Eva Braun.
Peter Hitler is voiced by Seth MacFarlane.
Ad blocker interference detected!
Wikia is a free-to-use site that makes money from advertising. We have a modified experience for viewers using ad blockers

Wikia is not accessible if you've made further modifications. Remove the custom ad blocker rule(s) and the page will load as expected.