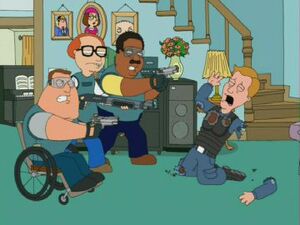 Peter Frederick Weller is an American film and stage actor, director and lecturer.
He is best known for his role as the titular character of RoboCop in the first two RoboCop movies. He is also known as Buckaroo Banzai in the cult classic The Adventures of Buckaroo Banzai Across the 8th Dimension and provides the voice of Batman in the DC Animated Original Movie based on Frank Miller's Batman: The Dark Knight Returns. He received an Academy Award nomination for his direction and acting in the 1993 short Partners.
On Family Guy, he appears in a reenactment of a scene from RoboCop in "Petarded" during a paintball fight.