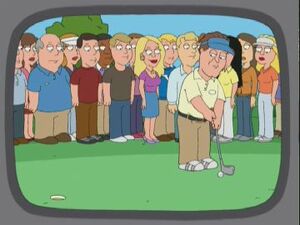 Philip Alfred Mickelson is an American professional golfer. He has won four major championships and a total of 38 events on the PGA Tour. He has reached a career high world ranking of 2nd in multiple years. He is nicknamed "Lefty" for his left-handed swing, even though he is otherwise right-handed.
The Griffins are watching him putt on TV when the power goes out in Blue Harvest. The announcers however, were focusing on Mickelson's wife Amy.
Ad blocker interference detected!
Wikia is a free-to-use site that makes money from advertising. We have a modified experience for viewers using ad blockers

Wikia is not accessible if you've made further modifications. Remove the custom ad blocker rule(s) and the page will load as expected.