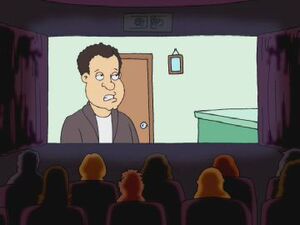 Philadelphia is a 1993 drama film that was one of the first mainstream Hollywood films to acknowledge HIV/AIDS, homosexuality and homophobia. It was written by Ron Nyswaner and directed by Jonathan Demme. The film stars Tom Hanks and Denzel Washington. It was inspired by the story of Geoffrey Bowers, an attorney who in 1987 sued the law firm Baker & McKenzie for unfair dismissal in one of the first AIDS discrimination cases.
Peter Griffin is watching the movie Philadelphia in the movie theater in Death Has a Shadow", carried over from the original Pilot Pitch. Peter can't figure out who the actor playing the main character is, at first, while everyone else in the theater, including Meg and Lois, cries.
Stewie accidentally plays a sound byte from the movie on Dingo and the Baby in "Mother Tucker".
E.T., who has been placed in the movie in "Long John Peter" doesn't want to touch Beckett in fear of getting AIDS.
While displaying his talent for memorization of movie taglines in the DVD version of "Road to Germany", Peter makes up one for this film.