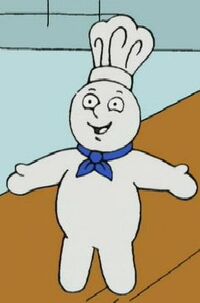 "The Pillsbury Doughboy", known as Poppin' Fresh, is an advertising icon and mascot of The Pillsbury Company, appearing in many of their commercials. Although some young children may think him a bunny, he is really a small anthropoid character apparently made out of dough. Many commercials conclude with a human finger poking the Doughboy's stomach. The Doughboy responds by rubbing his stomach and giggling. The Doughboy was originally drawn by Martin Nodell and brought to life using stop motion clay animation. Today, CGI is used.
Lois Griffin flattens the Pillsbury Doughboy while making cinnamon rolls in "Brian: Portrait of a Dog".
Ad blocker interference detected!
Wikia is a free-to-use site that makes money from advertising. We have a modified experience for viewers using ad blockers

Wikia is not accessible if you've made further modifications. Remove the custom ad blocker rule(s) and the page will load as expected.