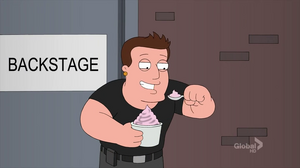 Pinkberry is a franchise of upscale frozen dessert restaurants headquartered in Los Angeles, California. There are currently over 100 stores, mostly located in Southern California and New York City.
Jesus tells Jay Leno that part of his return in "I Dream of Jesus" is to score some Pinkberry.
Lois distracts Justin Bieber's security with Pinkberry after flashing her breasts fails to work in "Lois Comes Out of Her Shell".
Stewie tricks Meg into becoming a distraction for a swarm of steroid-jacked bees by telling her they have Pinkberry in "Gronkowsbees".