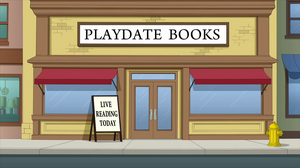 Playdate Books is where Joe debut's his new book, The Hopeful Squirrel in "The Book of Joe.
When Joe's attitude and appearance frightens the children who come to his book reading, Peter steps in and is a hit. the publisher, Blake Walker, talks Joe into letting Peter take over as the face of the author since Joe had used a pen name to avoid trouble in his police job.
Ad blocker interference detected!
Wikia is a free-to-use site that makes money from advertising. We have a modified experience for viewers using ad blockers

Wikia is not accessible if you've made further modifications. Remove the custom ad blocker rule(s) and the page will load as expected.