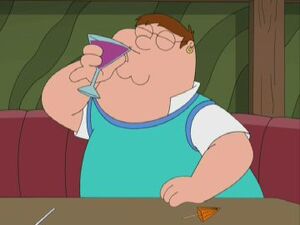 A Pomtini is an alcoholic beverage that contains ingredients used for martinis. It was first seen when Peter Griffin, while under the influence of the gay gene, enjoys one in a DVD-exclusive scene "Family Gay".
Brian later mentions it in "Tales of a Third Grade Nothing" and Stewie, in Peter's body, also notes he could go for a pomtini in "Switch the Flip".
Ingredients
1 oz. freshly squeezed pomegranate juice
1 1/2 oz. vodka
1 1/2 oz. grapefruit juice
1/2 oz. sour mix, or 1/2 oz. freshly squeezed lime
1/2 oz. simple syrup (equal parts sugar and cold water dissolved together)
Spiraled orange rind for garnish
Ice cubes
Directions
Assemble all ingredients in bar or mixing glass. Shake well with ice and strain into a chilled cocktail glass.
Garnish with spiraled orange rind.