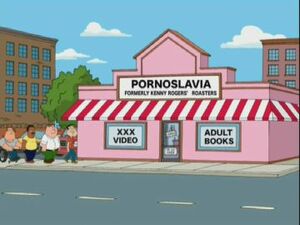 Pornoslavia is a pornographic merchandise store visited in "Peterotica". Its sign notes it was formerly a Kenny Rogers Roaster. Carol Burnett works here as a part-time janitor. Glenn Quagmire is a frequent customer, and performed "Make 'Em Laugh" here. Joe Swanson did not understand why the sex dummies sold here stared at him with gaping mouths. Peter Griffin buys a book called Much Ado About Humping here and is not impressed.
Ad blocker interference detected!
Wikia is a free-to-use site that makes money from advertising. We have a modified experience for viewers using ad blockers

Wikia is not accessible if you've made further modifications. Remove the custom ad blocker rule(s) and the page will load as expected.