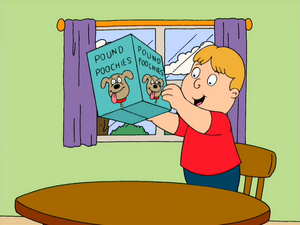 Pound Poochies is a toy created by the Happy-Go-Lucky Toy Company. It is a parody of the Pound Puppies.
In "Death Has a Shadow", because Peter Griffin did not monitor the conveyor belt for dangerous items, a box intended for the toy has prescription pills packed in it and is delivered to a boy.
Ad blocker interference detected!
Wikia is a free-to-use site that makes money from advertising. We have a modified experience for viewers using ad blockers

Wikia is not accessible if you've made further modifications. Remove the custom ad blocker rule(s) and the page will load as expected.