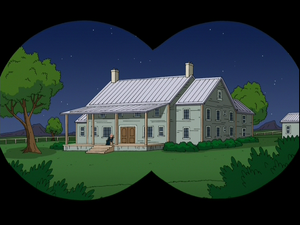 Prairie Chapel Ranch is a 1,583 acre (6.4 km²) ranch in unincorporated McLennan County, Texas, located seven miles (10 km) northwest of Crawford. The property was acquired by President George W. Bush in 1999 and was known as the Western White House during his Presidency. Inside the home are pictures of Bush having beer with Osama bin Laden, Ronald Reagan, Super Devil, and Saddam Hussein.
In "Boys Do Cry", Meg and Chris Griffin, originally from Quahog, Rhode Island, are dared by classmates in their new school to trespass onto the property and steal Bush's underwear. The dare is as part of initiation to become members of the Texas Youth Club. Dick Cheney fell asleep while guarding the property. Bush eventually caught them, and after befriending them, permitted the taking of his underwear.
Ad blocker interference detected!
Wikia is a free-to-use site that makes money from advertising. We have a modified experience for viewers using ad blockers

Wikia is not accessible if you've made further modifications. Remove the custom ad blocker rule(s) and the page will load as expected.