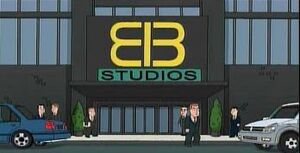 Premiere Radio Networks is an American radio network. It is the largest syndication company in the United States based on popularity of programming. It is a wholly owned subsidiary of Clear Channel Communications.
The Rush Limbaugh Show, also called The Rush Limbaugh Program, is an American talk radio show hosted by Rush Limbaugh on Premiere Radio Networks. The program normally originates from Limbaugh's studios near his home in Palm Beach County, Florida.
Brian interrupts a broadcast of The Rush Limbaugh Show in "Excellence in Broadcasting".
Ad blocker interference detected!
Wikia is a free-to-use site that makes money from advertising. We have a modified experience for viewers using ad blockers

Wikia is not accessible if you've made further modifications. Remove the custom ad blocker rule(s) and the page will load as expected.