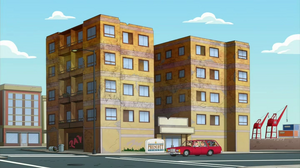 Prescott Towers is a condo at Quahog Harbor that Brian sells Quagmire in "Brian the Closer".
After becoming one of the top salesmen at Quahog Realty, the owner talks him into dumping a condo at Prescott Towers. Finding out that Quagmire just became flush with cash following his twentieth year as a pilot, he tricks him into buying it. But when he discovers it is nothing like what he was led to believe, with a child-shaped stain on the carpet, a head in the freezer and no ocean view, Brian decides to avoid him for the seventy two hours required by law for buyers to change their minds.
Ad blocker interference detected!
Wikia is a free-to-use site that makes money from advertising. We have a modified experience for viewers using ad blockers

Wikia is not accessible if you've made further modifications. Remove the custom ad blocker rule(s) and the page will load as expected.