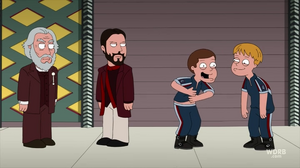 President Coriolanus Snow was the ruthless president of Panem for at least 25 years. He is the main antagonist of The Hunger Games trilogy.
When Peter claims that Quagmire may find some good in Charmisse, a hooker that Quagmire marries after a night of drinking in "The Giggity Wife", he notes that there is some good in all people except for the President in The Hunger Games. President Snow is shown taking the Hunger Games a step further by introducing "The Special Hunger Games" with developmentally disabled participants.
Ad blocker interference detected!
Wikia is a free-to-use site that makes money from advertising. We have a modified experience for viewers using ad blockers

Wikia is not accessible if you've made further modifications. Remove the custom ad blocker rule(s) and the page will load as expected.