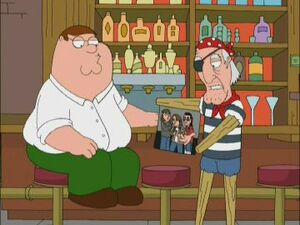 Primus is an American rock band formed in 1984, currently composed of vocalist and bassist Les Claypool, guitarist Larry "Ler" LaLonde, and drummer Jay Lane. Primus originally formed with Claypool, Todd Huth and Lane, with the latter two departing the band before Primus's debut release Suck on This, being replaced by drummer Tim "Herb" Alexander and Larry LaLonde. Primus are characterized by their irreverent and often non-serious approach to music. They have released some of their records on Claypool's Prawn Song Records label, the title of which is a parody of Led Zeppelin's Swan Song label.
Seamus reveals he carries around a poster of the band in his right peghand in "Stewie Loves Lois". He shows it off to Peter Griffin.
In "Saving Private Brian", Sergeant Extreme's banter with Brian includes a mention of Primus's song "Sgt. Baker".
Ad blocker interference detected!
Wikia is a free-to-use site that makes money from advertising. We have a modified experience for viewers using ad blockers

Wikia is not accessible if you've made further modifications. Remove the custom ad blocker rule(s) and the page will load as expected.